SELECT YOUR LANGUAGE
---
Only PDF Catalogue available for the other languages listed below.
IKUKO YAMAOKA PROFILE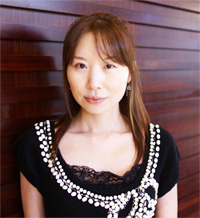 i-Natural Beauty Sydney Director
Born in Hiroshima Japan
Living in Sydney Australia from 1994.
While the study of skin care that focuses on natural materials, learn the relevance of beauty and health.
Message from i-White founder
Hello, I'm Ikuko Yamaoka, the founder of i-White products in Sydney Australia. I'm excited to announce our newest range of i-White products. Initially I created i-White skin care products to help my own skin care problems. When I studied the ingredients in skin care products I discovered that a large number of commercial skin care products contained potentially toxic ingredients. So although I thought they were helping me create beautiful skin they may have actually been harmful to my skin in the long-term.
I wanted to create products that thought about the user first – something that helped women like myself maintain healthy skin. i-White skin care products have been created with long-term benefits in mind because I want your skin to be healthy as well as look beautiful. I believe you can continue using i-White products throughout your life from any age because they were created thinking about the health and beauty of users like me and you.